When weather threatens, be prepared to act.
Leave nothing to chance when it comes to saving lives. Baron Threat Net helps you take advantage of every critical moment so you can be decisive, accurate and confident when planning and responding to weather.
Enhance public safety with live-saving critical weather data. Threat Net builds on Baron's 25-year history of working with emergency management agencies to improve the response and mitigation of significant weather events. Get extremely localized weather data that's accessible anytime, anywhere—from your tablet, Mac or PC. It's actionable intelligence for every mission-critical decision.
FEATURES
Protect Your Area With Precision
It only takes a single glance to locate dangerous threats headed your way. Street-level mapping with nationwide and local radar, satellite, and patented Baron storm tracking helps you easily identify the most severe threats within a storm so you can make the tough calls when every moment counts.
Know What's Coming—Plan Ahead
Forecast data gives you more time to prepare for severe and winter weather. Create an effective severe weather action plan—no matter what concerns you. Stay alert for any kind of weather you may encounter, including tornadoes, lightning, flooding, ice storms, tropical storms, dangerous road conditions, and more.
Exclusive Mission-Critical Data
Threat Net for public safety comes with more than 50 products—18 exclusive to Baron—that give you and your team the assurance needed to make life-saving decisions:
Locate areas of flooding, hail and tornadoes in a single glance by referencing the Severe Threats product.
Identify areas of high wind shear that could indicate tornadic conditions with the Severe Winds feature.
Quickly pinpoint tornado threats with the Baron Tornado Index that ranks probability on an easy-to-read scale of 1-10. As the number goes up, so does the potential for tornado development.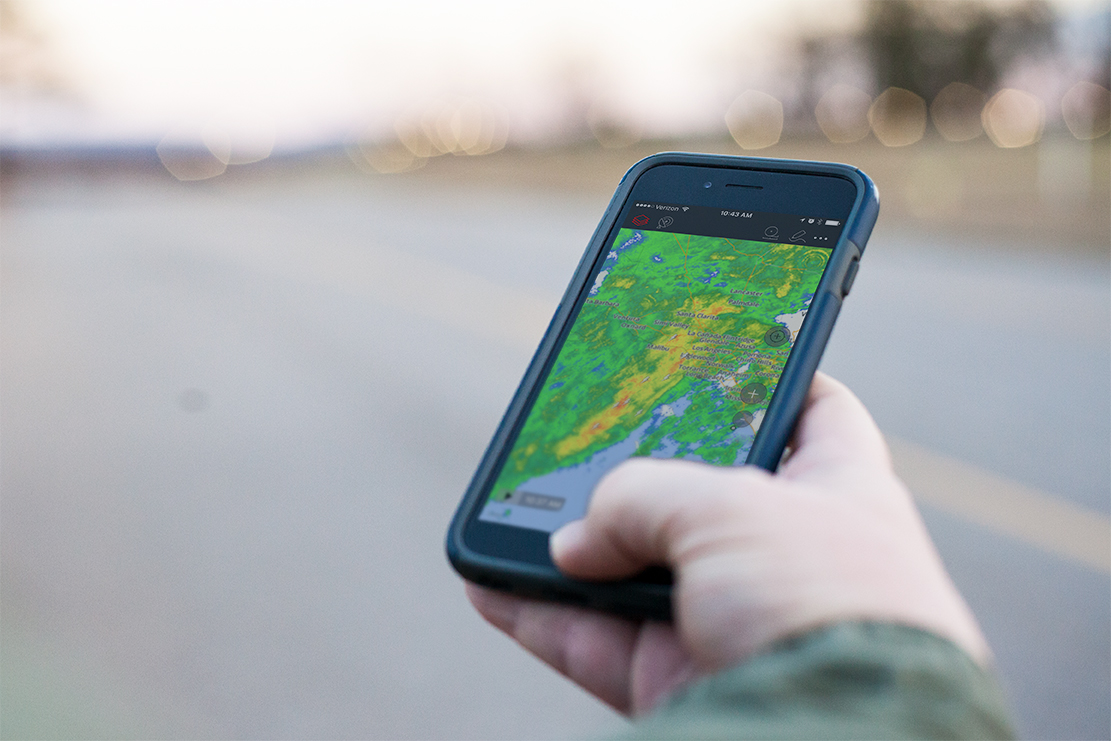 Actionable Intelligence via Mobile App
Take Baron Threat Net's powerful weather intelligence with you wherever you go. Now available on your iOS or Android device, the Baron Threat Net weather app allows you to monitor dangerous events right in the palm of your hand. Track storms with precision, and monitor severe weather like damaging winds, hail and flooding. You'll be able to scope out the most dangerous threats that face your area of responsibility to the best of your ability, easily and on-the-go.
Download iOS: App Store
Download Android: Google Play
---
Accurately Track Storms
Instantly highlight areas of interest within a storm. Baron Storm Vectors use color-coded arrows to indicate a storm's direction, high winds, hail, flooding, and possible tornadoes. Track a storm's movement up to an hour in advance and know which communities will be affected by specific threats. Simply click on a storm vector to see a list of estimated arrival times, and create a plan to protect the community you serve.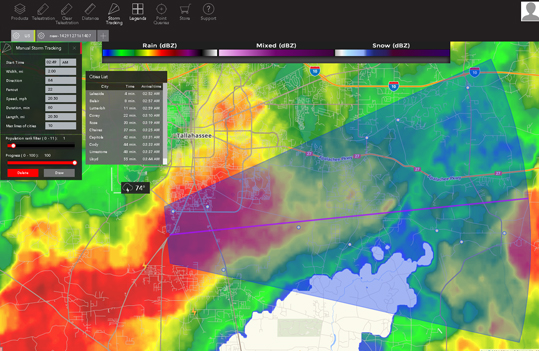 ---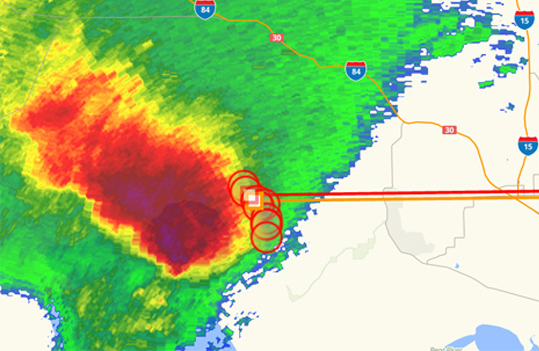 Monitor Potential Tornadoes
Quickly identify areas where a tornado may be developing. Threat Net's Critical Weather Indicators measure the precise amount of shear to detect rotating winds—a strong indication of possible tornadoes. They provide a clear visual warning of shear threats that gives you an edge when pinpointing and monitoring hazardous weather.
---
Historical Weather Data
An optional addition to your Threat Net account, Baron Historical Weather Data allows you to view archived radar, hail and tornado detection, flooding data and more from the last week, month or year—or even up to 8 years ago. Use this information to conduct severe weather exercises, replaying an event as it unfolded in real-time, or identify affected areas for more effective post-event response. When you request a free trial of Baron Threat Net, historical data can be included in your trial plan, giving you access to a variety of archived weather data from up to 7 days in the past.
---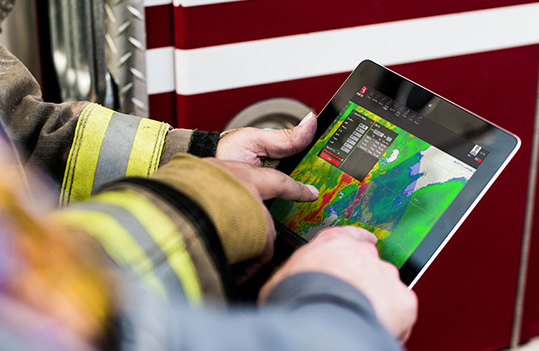 See Where You Are in Relation to Any Weather
Tablet devices supported by 3G or 4G reception let you immediately see where you are in relation to any inclement weather. GPS combined with powerful storm tracking means you'll always be aware of how and when the storm will reach you.
---
Road Conditions Forecast
Before winter weather or flooding strikes, knowing where travel problems may occur gives you much-needed time to prepare. Baron Threat Net's exclusive Road Conditions Forecast data identifies the weather's impact on roadways 24 hours in advance. From flooded and slippery conditions to ice and snow-covered roads, more time to plan means better safety for drivers, crews, and road-bound assets.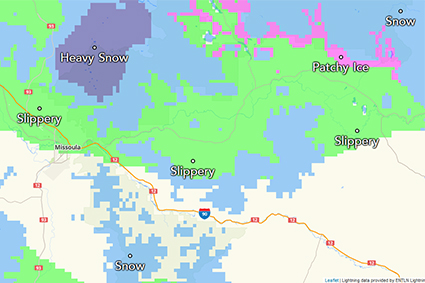 ---
They say

Threat Net has performed flawlessly, and allows me the ability to get closer to the storms that I ever thought possible.

– Dr. David L. Arnold, Climatology & Natural Hazards, Frostburg State University

They say

We want to deliver accurate, reliable data. And Baron's data was the best data possible.

– Robert Harshaw, President and CEO, Heads Up Technologies

They say

I am grateful for the support of Baron and Mobile Threat Net to help save lives and property.

– Ricky Little, On-scene Incident Commander for the Alabama Emergency Management Agency